Is It Time To Upgrade Your Kitchen Knives?
I remember a TV program (back in the UK) called, "Can't Cook. Won't Cook"...
Well, that's pretty much me. Don't get me wrong – I enjoy food. Oh boy do I enjoy food!
I just don't enjoy it enough to prepare it... or cook it... or whatever it is people do to it so I can actually each it.
However, I do find myself having to "cook" (and I use the term in the loosest possible sense!) from time to time.
And I'm always been frustrated by knives. They're usually blunt... and that's when I can even find one in the kitchen!
I keep meaning to get a new set of knives but, being the over-the-top and slightly obsessive-compulsive person that I am, I can't buy them unless they're the best (or at least damn close to the best).
And, even then, I'll probably never use them (shocking, but pretty much true).
However, I saw something on Kickstarter today...
A way for me to "get my toes wet" with kitchen knife buying. I present to you the Fave Knife: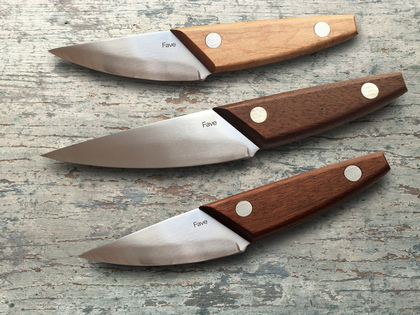 The Fave Knife is an almost entirely hand-made kitchen knife... made in the USA... by a company that's been making knives for over 165 years. How cool is that?
I gotta tell you... the Fave Knife just looks so damn good. A real eye-pleasing design.
The Fave Knife comes in two sizes... the Fave 3 (which has a 3" blade) and the Fave 4 (which has a 4" blade)
The Rewards seem pretty well-priced too.
Oh, and you can choose from a variety of handles: Cherry, Walnut, Mahogany and Maple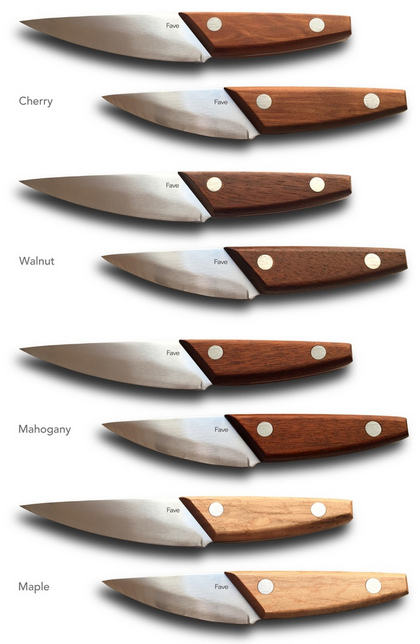 I have plenty of flimsy excuses for not cooking (and, believe me, I use them all!). But not having a good quality knife looks like it's no longer going to be an excuse for me.